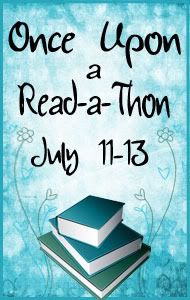 I am participating in the Once Upon a Read-a-Thon hosted by Reading Angel, Pure Imagination, and Candace's Book Blog. This is my first time ever participating in a read-a-thon and I am very excited. I have so many books that I need to read before school starts! I will be updating every time I finish a book. =) If you want to participate and still haven't signed up, click the picture above to be taken to the sign-up page. It isn't too late to join in!
Here are the books that I will be reading during the read-a-thon:
*Update*
Touch of Frost by Jennifer Estep---DONE! =)
Falling For Hamlet by Michelle Ray--Just started!
Wolfsbane by Andrea Cremer
The Near Witch by Victoria Schwab
Shade by Jeri Smith-Ready
May add more depending on how I fare with the above books. =)